Papeles de Economía Española
Quarterly magazine that has been published since 1979. It analyzes relevant and current economic issues based on theoretical approaches but, essentially, on empirical tests with a special interest in the implications of economic policy. Its theoretical rigor is not an obstacle to making it accessible to the wide range of social agents participating in the political debate.
The articles published in this magazine are registered in the EconLit Database of the American Economic Association, editor of the Journal of Economic Literature, Latindex and Proquest. Likewise, Papeles de Economía Española is indexed in the IN-RECS index of Spanish scientific journals.
Latest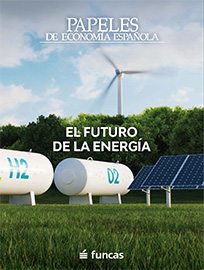 Fecha: 2022
Papeles de Economía Española, N.º 174 (2022)