Conjunctural indicators for the Eurozone in May
Fecha: June 2022
Almudena María García Sanz, Economist and Researcher, Funcas Europe
The PMI Composite Index reached 54,8 in May, a decrease from 55.8 in April. This suggests that the Eurozone continued to expand through the second quarter, but with a loss of momentum [1].
The Index kept the "above 50 points" level in the four largest eurozone economies. The indicator exhibited a decrease, except in Spain where it remained stable.
While the services sector continues to recover, the manufacturing sector is disproportionately affected by continued supply-side disruptions, rising energy prices and the uncertainties associated with the war in Ukraine. Despite its resilience, there was an overall loss of momentum within the sector in May, leading private sector business output to rise at the slowest pace since January. Nevertheless, combined new business intakes across manufacturing and services firms continued to grow in May. Employment continued to grow, amid a broad-based improvement in hiring trends at the sector level. The expansion in demand for goods and services slowed to a four-month low, in the face of a drop in manufacturing new orders. Foreign demand was also a drag on order volumes in May as new export business orders fell at the fastest pace for nearly two years.
By contrast, services exhibited the second-fastest expansion in output since last September. New business intakes continued to rise across the service sector in May, supported by a renewed increase in new orders from overseas customers. Overall demand for services rose at a slower rate when compared to April. Nevertheless, capacity pressures intensified, as signaled by backlogs of work. To support activity levels, employment was raised at the fastest pace since July 2007. Meanwhile, there was a further steep rise in operating expenses, leading firms to increase prices [1].
The latest survey continued to highlight severe inflationary pressures across the euro area. Output prices were raised to the second-greatest extent on record in May amid another substantial increase in firms' operating costs. Although the increase in input costs was the slowest for three months, it remains strong by past standards [1].
Finally, the Business and consumer survey of the European Commission points to a slight reduction in Economic Sentiment in May in the EU. On the other hand, Employment Expectations are mildly up[2Amongst the largest EU economies, the ESI rose markedly in Spain (+4.1) and, to a lesser extent, in France (+1.5) and Italy (+0.8), while it remained almost unchanged in Germany (+0.2) [2].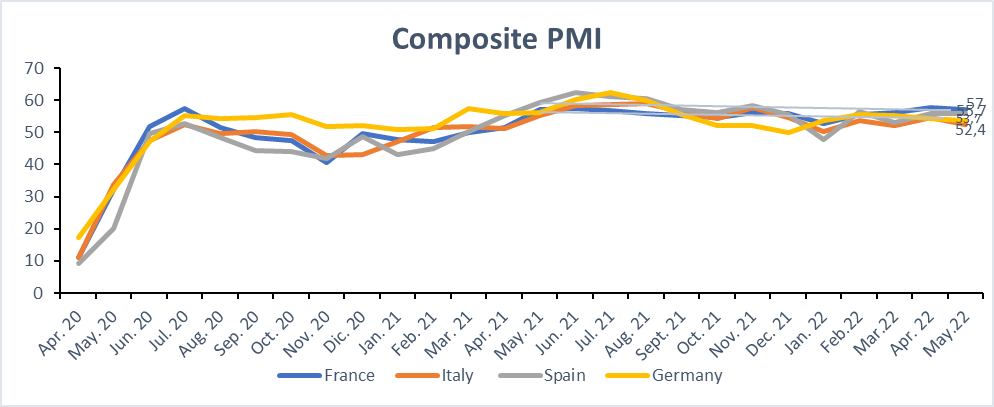 ---
References :
[1] https://www.pmi.spglobal.com/Public/Home/PressRelease/62c985d513f64e0eb84c37255281a39f
[2] https://ec.europa.eu/info/sites/default/files/bcs_2022_05_en.pdf