Thursday, 20 January 2022
Hello Future is blue readers,
We hope you've started the year in good shape.

Today we are back to business sharing with you some new content for the new year. What can we expect form the world economy in 2022? What are the key trends and threats that policymakers will need to deal with?

This is the topic driving our new podcast, featuring Alicia García Herrero, Chief Economist for Asia Pacific at Natixis, a French multinational financial services firm, and Senior Fellow at Bruegel think tank, Raymond Torres, Funcas Europe Director, and presented by Carlos Carnicero Urabayen. More info below.

See at the end, as usual, what we are reading these days.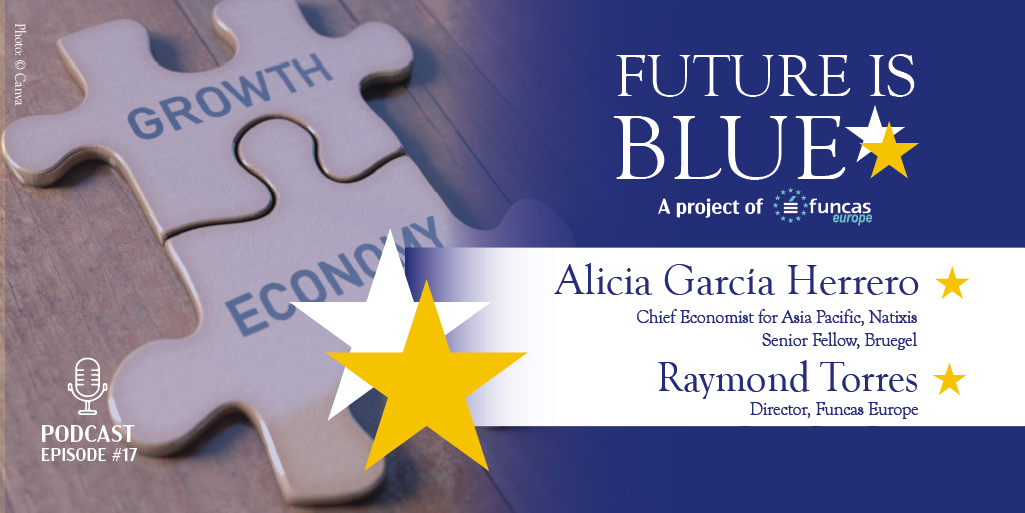 New podcast available!
Will 2022 be the year where the world economy recovers from the pandemic? This is the question pretty much in everyone's mind. 

After an expansion of 5.5% in 2021, driven mostly by consumer spending, a spike in investment and trade in goods above pre-pandemic levels, global output is projected to grow by 4% in 2022 and 3.5% in 2023.

But these prospects face significant challenges, notably inflationary pressures, the landing of the Chinese economy after the burst of the property bubble, the impact of US monetary policy tightening and structural changes in supply chains and labour markets. How will positive and negative forces play out?
Help us spread the word!
Do you know someone that may not know about Future is blue and could be interested in our free content? A worldwide network of academics, policymakers and analysts are currently receiving our newsletters and are listening to our podcasts. Feel free to forward this email if you think of someone that may be interested. With the below button anyone can subscribe.
What we are reading
World Economy in 2022: the big factors to watch closely
Good overview of the main challenges for the world economy to keep an eye on over the next months.

Global risks report 2022: what you need to know
The report focuses on climate risks both for the short and long term.

COVID-19 pandemic stalls global economic recovery: UN report
This UN's report shows that the rapid spread of the Omicron COVID-19 variant has put the brakes on a rapid recovery, counteracting signs of solid growth at the end of last year.

Happy new year? Five economic flashpoints to beware in 2022
From a new Covid variant to rampant inflation, the global economy faces some daunting risks in the new year.
Have a nice end of the week.
Raymond Torres
Funcas Europe Director