Monday, 28 February 2022
Hello Future is blue readers,
Sadly the crisis in Ukraine has turned into an actual war. Russia started a few days ago a full scale invasion of the country, and we are witnessing one of the most significant armed conflicts in Europe since the II World War.

The economic and energy-related repercussions are potentially huge. To get some answers at this early stage, we recently talked to Elisabetta Cornago, Senior Research Fellow at the Centre for European Reform.

Elisabetta, our guest speaker in our new podcast episode, is an expert in environmental policy, energy and climate policy. In our conversation we discussed topics such as Europe's dependency on Russian gas, the economic consequences of sanctions on Russia for European economies and the implications of the ongoing crisis on Europe's energy transition plans. More details below.

At the end you can find some of the readings that are capturing our attention these days.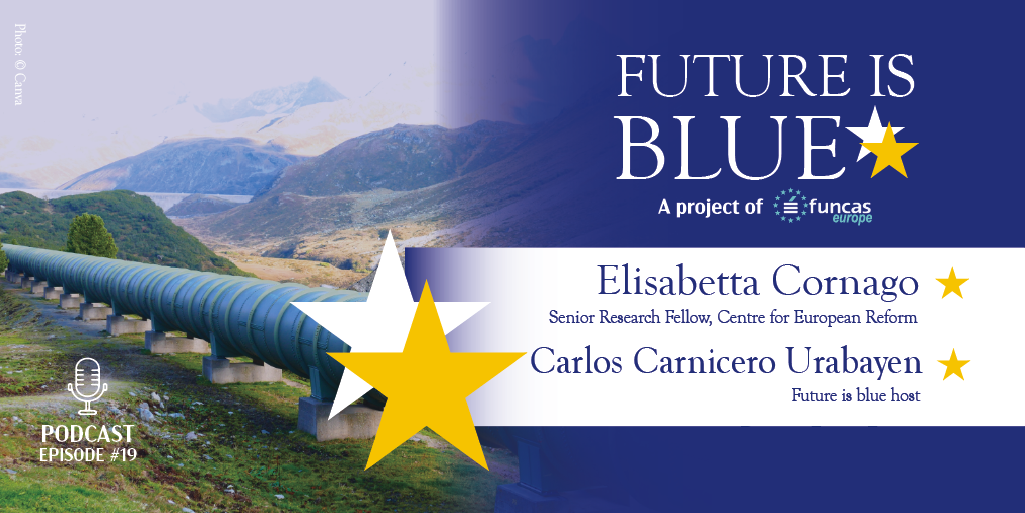 New podcast available!
The EU, in coordination with the US, the UK, Japan and other allies, has imposed a severe package of sanctions against the Russian economy. We are likely going to see the rubble drop, bank runs and Russian debtors missing large payments.

The sanctions will cause severe damage to the Russian economy, but they may also trigger some negative impacts on Europe's side. The ECB will need to step in and think of ways to palliate these side effects.

Energy wise, the repercussions will be huge. As it is well known, Europe's dependency on Russian gas is a remarkable liability. Yet we are seeing already policy shifts to adapt to a new scenario. In Germany, a country with one of the closest energy links with Russia, there are now plans to build two liquefied natural gas (LNG) terminals and also raise its natural gas reserves.

In our podcast interview with Elisabetta Cornago, there is substantial background information to be better equipped to understand these new developments.
Promote Future is blue
Do you know someone that may not know about Future is blue and could be interested in our free content? A worldwide network of academics, policymakers and analysts are currently receiving our newsletters and are listening to our podcast. Feel free to forward this email if you think of someone that may be interested. With the below button anyone can subscribe.
What we are reading
Stronger sanctions on Russia: Essential but not a strategy
«The West is rightly responding to Putin's all-out attack on Ukraine's territorial integrity with sanctions. But they need to be part of a wider strategy to ensure that he cannot win».

Economic warfare: raising pressure on Putin
Interesting overview of policy options that the EU may consider to adapt to the new scenario.

Can Europe survive without Russian gas?
Gas-rich Azerbaijan and Qatar pour cold water on EU's contingency plans.

Can Europe live without Russian gas right now?
Good Twitter thread by Nikos Tsafos with key figures to understand what are Europe's gas options.
Have a nice week.
Raymond Torres
Funcas Europe Director