Wednesday, 6 September 2023
Hello Future is blue readers,
Welcome to our newsletter about European economic affairs bringing together top experts from academia and think tanks to discuss the most pressing economic challenges of today. Future is Blue is promoted by Funcas.
Has the German economy entered a period of economic weakness, as was the case at the end of the beginning of the Century? The International Monetary Fund recently predicted that Germany would be the only major economy to shrink this year, and the issue is whether this is a temporary blip or a manifestation of a deeply-entrenched problem.
Our new podcast explores what are the key areas of concern for the EU's biggest economy and what policy directions would help to make things better.
To discuss this, Sander Tordoir, Senior Economist at the Centre for European Reform, and Raymond Torres,Funcas Europe Director, have joined our new podcast episode. Below you can find more information on our latest show hosted by Carlos Carnicero Urabayen.
Don't miss our weekly readings at the bottom of this newsletter.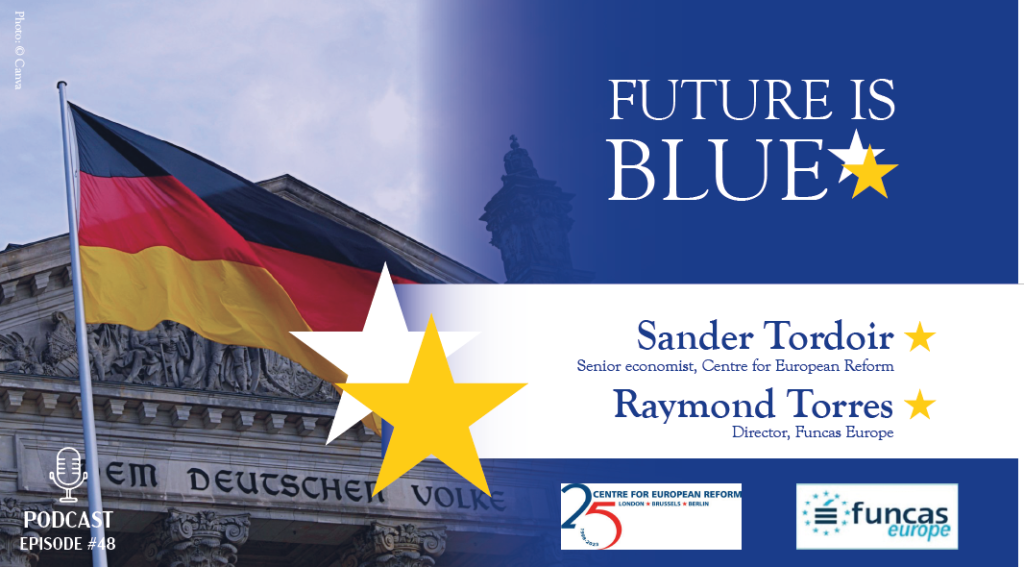 New podcast episode available!
In today's Future is Blue podcast episode, a joint series by Funcas Europe and the Centre for European Reform, we cover the following key aspects Germany's economic concerns:
What are the root causes of Germany's challenges
Is recession inevitable?
To what extent will geopolitical tensions, the energy crisis and the disruption of global supply chains exert a longer impact on Germany?
What are they key policies that can help transit towards a new growth model?
Collaboration between Funcas Europe and the Centre for European Reform
In order to grow our audience and bring to you some world class analysis and insights on European economic affairs, we have agreed with the Centre for European Reform to regularly collaborate on the Future is Blue podcast. Every two months, an analyst from CER joins our podcast to discuss the most pressing economic issues on the agenda.
The Centre for European Reform is an award-winning, independent think-tank that seeks to achieve an open, outward-looking, influential and prosperous European Union, with close ties to its neighbors and allies. You can read more about the CER and their latest publications in their website.
Help us promote Future is blue
Do you know someone that may not know about Future is Blue and could be interested in our free content? A worldwide network of academics, policymakers and analysts are currently receiving our newsletters and are listening to our podcast. Feel free to forward this email if you think of someone that may be interested. With the below button anyone can subscribe.
What we are reading
Germany needs a new growth model
Berlin should fundamentally reset its growth strategy, rather than clinging to a failing model of industrial export corporatism, claims this CER paper.
A new governance framework to safeguard the European Green Deal
This Bruegel's policy brief sets out policy proposals to enhance governance in order to safeguard EU decarbonisation.
Experts alone can't handle AI – social scientists explain why the public needs a seat at the table
AI regulations should not only incorporate the best available science but also the numerous ethical, regulatory and social considerations of their use.
EU wavers over promise to strengthen key climate target
Discussions over whether to boost the 2030 emissions target from 55 percent to 57 percent are headed for a political showdown in October.
Have a nice rest of the week.
Raymond Torres
Funcas Europe Director