Conjunctural indicators for the Eurozone in January
Fecha: february 2022
Almudena María García Sanz, Economist and Researcher, Funcas Europe
The euro-zone economy started 2022 on a weak note but the improving health situation suggests that growth will pick up over the rest of the quarter [1]. The PMI-HIS Markit Composite output index of the Eurozone in January reached 52,3.  Pointing to the weakest increase in business activity since the headline index moved back into growth territory last March. [2].
The Composite Markit Index for the four largest economies of the Eurozone suggests that Germany fared better in January with its Composite PMI back above the 50 mark. However, the indicator fell in France, Italy and Spain, which all imposed restrictions later than Germany. This was driven by weakness in their services sectors, as Omicron restrictions affected demand from both residents and overseas visitors [1].
On the other hand, it seems that the euro area's goods-producing sector has outperformed its service-providing counterpart [2]. Moreover, latest survey data for the eurozone showed continued growth in private sector order books at the beginning of the year, suggesting that a pick-up. Furthermore, a rise in new business orders across both manufacturing and services has been registered, although it was the former which registered the faster increase.  Employment also recorded an acceleration in January and remained above its historical trend. The improved rate of job creation was mainly driven by manufacturers, while hiring growth at services firms was moderate [2].
As noted, the services sector is performing relative weakly: the PMI Services indicator was, while- still above the 50, consistent with growth, signaled the softest expansion in euro area services since last April. [2]. The slower increase in business activity coincided with weaker new orders January. The improvement in demand was the softest across the current nine-month sequence of growth. Nevertheless, backlogs of work continued to rise, and at a quicker pace and additional staff was hired in January. Indeed, the rate of job creation, while slightly weaker than in previous months, still above average [2].
Meanwhile, operating capacities continued to be limited across the eurozone, reflecting constrains related to staff availability, shortages of materials and intermediary products, as well as additional intakes of new business. The rate of backlog accumulation was solid, although was the slowest in nine months [2]. Finally, price pressures remain strong across the euro area, with rates of input cost and output price inflation accelerating, and selling charges raising significantly [2].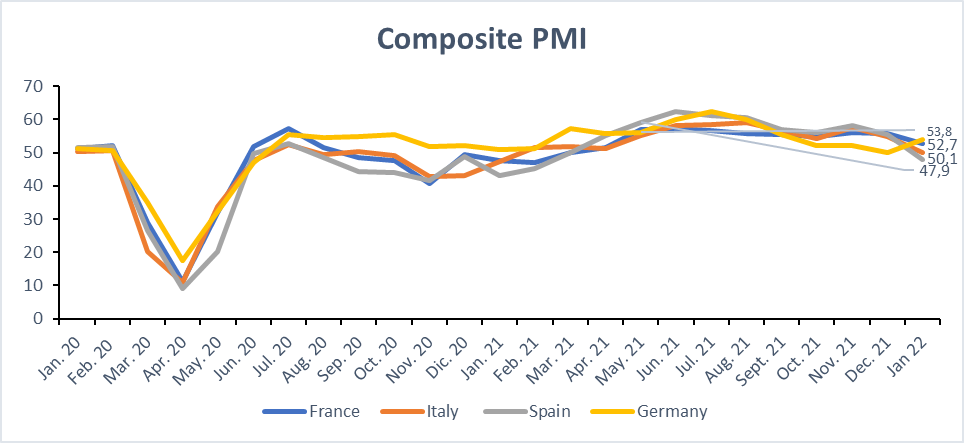 ---
References :
[1] https://www.capitaleconomics.com/clients/publications/european-economics/european-data-response/euro-zone-final-pmis-jan-2/
[2] https://www.markiteconomics.com/Public/Home/PressRelease/ cce3dc8305864c30afb03a95eda3c4f7