Employment, labour force and education
Highlighted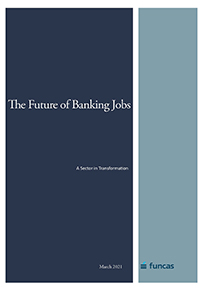 Nota técnica
The Future of Banking Jobs analyzes a wide range of perspectives on the
likely evolution of banking sector employment.
Artículo
Durante un año viví junto a la casa que el famoso escritor Lewis Carroll tomó como residencia familiar en Guildford (Inglaterra). Aunque su domicilio habitual estuvo siempre en la Universidad de Oxford, Carroll (cuyo verdadero nombre era Charles Dodgson) pasó largas temporadas en la casa de Guildford acompañando a sus hermanas. Esa circunstancia invitó a que alrededor de la casa se organizaran en aquel año todo tipo de actividades vinculadas a la vida y obra del escritor, la mayoría relacionadas con su obra más conocida: Alicia en el País de las Maravillas.
Artículo
La producción agregada, la productividad, la renta per cápita y la distribución y desigualdad de ingresos, entre otras variables, son el resultado agregado de las decisiones que toman los individuos, las empresas y los reguladores.
Artículo
Con este trabajo se pretende reflexionar sobre la importancia de retomar por parte de la comunidad académica los aspectos esenciales de la misión de las universidades, que justifican su existencia y que corren el riesgo de ser olvidados en la práctica. Para ello el trabajo revisa, en primer lugar, el concepto de servicio de educación superior y se reflexiona sobre la naturaleza y los fines de la Universidad. En segundo lugar, el trabajo expone brevemente los cambios culturales experimentados por la Universidad del siglo XXI, señalando las ventajas e inconvenientes que ello puede entrañar. En tercer lugar, el trabajo propone la implementación de prácticas de buen gobierno en la Universidad que permitan compatibilizar su razón de ser con los cambios experimentados a lo largo de las últimas décadas.